B4 & After  Projects We've Completed For Our Clients
Built From The Customer Experience Backwards
Our Proven Process Produces Results
1. MEETING
Goals and Deliverables.  No Geek Speak!
What's the vision and how are we going to get there?
2. PLANNING
No Surprises. Monthly Updates, Game Plan & Results sent to your inbox in a quick easy view report.
3. EXECUTE
The Basics of  a good "Plan A"  includes "Plan B"  in your Digital Marketing.
What's the next six months look like on your Digital Calendar?
4. TESTING
Ongoing. Live design means everyone is an editor. Every page, every graphic has a time to shine.
5. DELIVERY
You choose the involvement, Weekly, Bi-Weekly Monthly?
Our design allows for immediate input &  timeline decisions.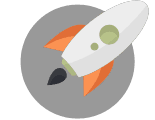 We're Here To Help Your Business Blast Off!
Through Experience, Talent,  Creative Ideas, Innovation & Sheer Determination. 
And Now… A Few Words From Our Clients